Following SXSW, I've gotten a bunch of questions about my custom messenger bag.  I'm a vinyl nerd and the two of us with an office in Columbus (Tyler and Matt) are both regular bike commuters.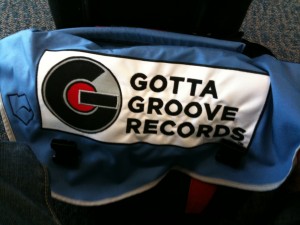 I've wanted to get a messenger bag from Seagull Bags ever since I moved here three years ago.
They offer seasonal bags and do amazing custom work.  Mine has a custom embroidered logo on the outside, was all custom colors. (red velcro, red inside, dark blue outer, lighter blue on the flap.  Plus custom pocket for water bottle and  a special pocket for holding vinyl.  I'm usually biking around carrying some samples just in case, but mostly use it when I'm traveling, or in case I ever decide to drop into one of my favorite record stores.   I can't thank the folks at Seagull enough, they did an unbelievable job.  Check out their website for some even more badass bags.