Gotta Groove Records has been in business since summer 2009. It's been a fantastic journey for all of us.
We've learned hands-on the process of setting up a vinyl manufacturing plant, tweaking all of the machines to produce high quality vinyl and locking down our quality assurance process, to put out only the highest quality vinyl records.
We all got into this business because we love working with artists and labels, love creating unique items for their fans, and love listening to great-sounding vinyl.
That's why it's with a heavy heart that I am announcing Gotta Groove will be shutting down our plant and scrapping all of our equipment. While many of our loyal customers and fans have been heralding the resurgence of vinyl, we've been filled with doubt. That's why, starting today, we are proud to announce that Gotta Groove Records is being re-launched as Gotta Groove 8-Tracks.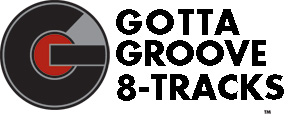 That's right, in our pursuit for sonic excellence, we believed that we've pushed the boundaries of vinyl as a medium and are happy to be able to offer our audiophile customers the superior sound that can only be achieved from magnetic tape.  Combined with the portability and legendary durability of the format, we think this is a win-win for everyone.
Thanks to everyone for their continued support, and please don't hesitate to get in touch with any questions!
– Tyler