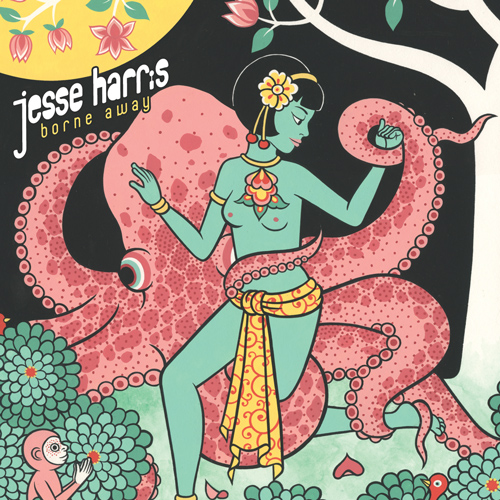 Borne Away, the new 14-song "solo acoustic" album from Jesse Harris, was never meant to be an album at all. Why solo-acoustic in quotations? Because added to the basic live tracks of Harris with his guitar are light overdubs he plays almost entirely himself.
In the Summer of 2012, in a burst of inspiration, mostly while on tour promoting his last release Sub Rosa, he wrote about 30 new songs. Of his process, Harris explains, "I wanted to strip away the luxury of time and thought that goes so often into songwriting and write as quickly as possible." Coming from someone who makes an album a year, while also writing for and producing other artists, that may sound a bit surprising. Harris counters, "Duke Ellington wrote thousands of songs, so to come up with one album of original material a year is really not so much."
To document everything he had, in a two-day session this past September, he recorded his new tunes on the same 1969 Martin nylon string on which he composed them. Every couple of weeks, returning to the studio, usually with another one or two new ones, he would add touches of Hammond organ, Casio keyboard, harmony vocals, kalimba, glockenspiel, and percussion. The only other musician to participate was friend Charlotte Kemp Muhl (Ghost Of A Saber Tooth Tiger, Kemp and Eden), whose haunting vocal arrangement on the title track and harmonies on the album's final song, The Silent Sea, recall the music of classic horror films, 60s folk, and exotica. Although this was their first musical collaboration, Harris and Muhl have worked together before, with her playing the role of the "Succubus" in several DIY iPhone videos he made last year.
Sitting suddenly on top of a pile of recordings, Harris culled the 14 for this album. "Eventually I'd like to release another volume from this series. I chose these first 14 because they belonged together and seemed to tell a story."
Available on tour, and very soon from Secret Sun Recordings.