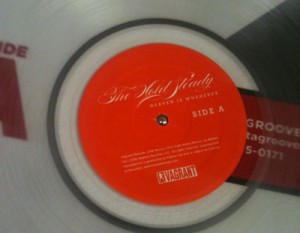 Unless you have been living under a rock, you should know that tomorrow is Record Store Day.  We're extremely proud to sponsor the event and it's going to be really fun to see some of the great records we've worked on in stores tomorrow.
Two, of special note, are The Hold Steady.  This is a fantastic record, and doesn't officially get released until May 3.  Check out the snapshot of the clear vinyl. Less than 700 of these were made.
Also, for St. Louis fans, the fantastic Vintage Vinyl has pressed "Don't Quit Your Day Job" a compilation of vintage vinyl employee bands.  Limited to 300 copies on pink vinyl, we don't have any sitting around, check out the insert below.
Here in Columbus, Used Kids, Magnolia Thunderpussy and Lost Weekend are all must-drop-bys.  In Cleveland, there is a great Walk all over Waterloo, with stops at all of the places to be.  More info from  Music Saves.
Have an amazing record store day!  And let us know what you pick up!