What's the story behind Gound Records?
I started Gound for probably the same reasons most people start a label, to release records for friends. My friends in For Hours and Ours had been working on this release for a little while, and I had mentioned releasing it on vinyl for them, after a couple months of talking about it we finally started working on it. Fast forward 5 months and a nice tax return check and it's finally out. I also happen to be obsessed with vinyl records, or any alternative forms of music other than .mp3 and CD's (records/tapes). I think it was just a long time coming before I finally started being active in my favorite hobby. I still have a long ways to go with this being my first release, but I'm really excited to see where this ends up.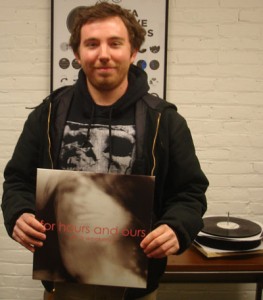 Why vinyl?
Why not? I don't completely bash on CD's, I buy them myself every so often, but I would rather put out something that I'm really into. I used to burn CD's and dub tapes all the time, but they aren't as personal to me as a vinyl record. I love the sound, I love putting the needle on the record, and watching it spin around as the needle glides through the grooves! So why vinyl? Because it RULES!
Who did your album artwork?
The guitarist, Jacob Hamrick from For Hours and Ours did the artwork. He goes to The University of Texas in Austin for studio art. Jacob pretty much was with me through every step of the release, and made my job extremely easy!
Audio-quality-wise, what were the differences in considering an analog vs. digital release (feel free to get as audio nerdy as you'd like)
Well, I have heard the analog vs digital debate quite a bit in the last 10 years as we all have, and can see both sides of it. Regardless of specifics, I really do think that analog recordings sound better, and warmer. Digital recordings to me are just for pure convenience, something that you can put on nearly anywhere, through anything. You can throw it on your car, or in your ears while doing ANYTHING. I never really pay attention to the quality of a digital recording. Audio quality between analog and digital never really even came into mind when putting this record out. /drivel
How much did you know about the process of pressing a record before actually doing it/ what do you know now that you wish you knew before?
I knew very little about the process, but I definitely did a bunch of research right up until the time it started getting pressed, so I wasn't too caught off guard by anything. The internet rules!
Where can folks get the album?
http://goundrecords.bigcartel.com/
Anything else?
Just a couple thank you's to the following: For Hours and Ours, Gotta Groove Records, and 512 Wrecking Crew!