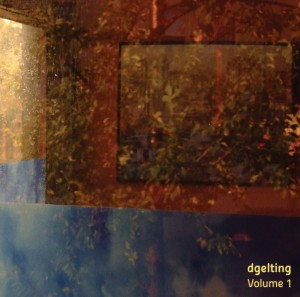 The following commentary is by no means a scholarly review of dgelting – Volume 1; rather, it is an analysis consisting of both subjective and objective observations derived from frequent pleasurable listenings. It is an album that, upon first impression, may be perceived as an ambient alternative to albums such as Radiohead's Kid A and Hovercraft's Schema. However, once passed the realm of passive listening, the inherent depth of the album is keenly noted. The 80 minutes of music propels the listener into a seemingly subtle lapse in time, as it is an album that is effortlessly played in its entirety.
The introductory song, Iochroma cyaneum, appears to prepare the listener for the ensuing denseness and heaviness of the album with its minimalistic, yet dramatic qualities. By the end of the first side, a darker mood is established and immediately reiterated with Leucophyllum frutescens on side two. The ominous intensity of the album climaxes during the dramatic ascension of Plumeria fragipani, and at once subdued with the opening of Rhododendron simsii. Needless to say, the culmination of the album leaves the listener encapsulated in a plethora of interpretations.
            Samples using a variety of instruments, as well as sounds derived from miscellaneous sources were recorded for this album during a two year time period. During this interval of time, Gelting, an upright bassist, had an apartment full of instruments including four upright basses and four pianos. It must be noted that one of the pianos was actually the guts of a piano, another was a baby grand, the third was a prepared piano, and the fourth-a cheap upright. Additionally, frequent 3am break ins into the university concert hall led to use of a concert grand piano encased in a room not much larger than the piano itself, and a broken harp. The reader will be happy to know that nothing and no one was harmed during these occasions, and a key (obtained through honest means) was used to enter the facility. Additional sources of sound used on the album include bowed cymbal, organ, synthesizers, Fourth of July fireworks, guitar, birds, rivers, a creaky fence, and singing bowls.
            Gelting began playing the upright bass at the age of ten through his school music program. While Gelting was primarily classically trained, he was introduced to Led Zeppelin IV within the year by his older brother and was at once captivated by the music. The sudden discovery of the bass' versatility impressed Gelting and led to an ardent interest in rock and metal. Gelting received his first electric bass in the seventh grade and began to play songs by Motley Crue and Metallica, moving over the years deeper into bands like Morbid Angel and Death.  By end of high school, Gelting started studying jazz in addition to his classical studies.   In 1998 he co-founded an ensemble called The Danglers in Milwaukee, WI which pioneered the use of classical instruments in rock settings. He has studied upright bass the under Laura Snyder at the University of Wisconsin-Milwaukee (UWM) from 2005-2008 while playing in the university orchestra.  Gelting later obtained a degree in Applied Math and Physics from UWM, and is currently completing a Master's in Education. He continues to devote much of his time to playing and recording music.