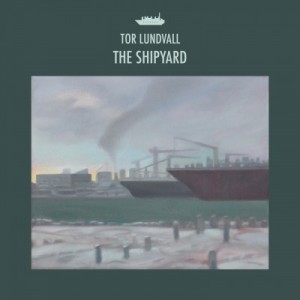 Some words from Tor Lundvall about the creation of The Shipyard:
In the Autumn of 1990, I documented a handful of spontaneous audio experiments on a portable tape recorder.  One of these pieces was a quiet instrumental entitled 'In a Shipyard'.  I worked on a few variations over the following months and then I put the track to rest, hoping to expand on the idea at some point in the future.  Almost 20 years later, I finally started recording an album based on the themes and images this old track evoked.
'The Shipyard in Winter' was the first new recording to take shape.  This track was constructed around the soft, mechanical loop I used in my original demos.  I then altered the loop to construct 'The Shipyard at Dawn' and 'The Shipyard at Night', both of which appear on the album.  'The Shipyard in Winter' and another out-take entitled 'Safety in Grey' were released on the Tursa compilation "With Friends Like These" in 2010.
The nautical and industrial sounds on the album were created from scratch and come from some surprising sources.  The distant, sluggish melody on 'Under Snow Conditions' is actually a slowed down fragment of distorted piano from 'Blankets of Snow' (an out-take from the "Ice" sessions).  The two final tracks, 'Blue Rain Ships' and 'Grey Rain Ships', were constructed by running randomly overlapping tape loops from my archives, so there is an element of chance in these pieces.
This instrumental collection of songs is limited to 500 hand numbered vinyl copies (comes with a free MP3 download coupon and artwork by Tor Lundvall), and is available for pre-order now from Dais Records.